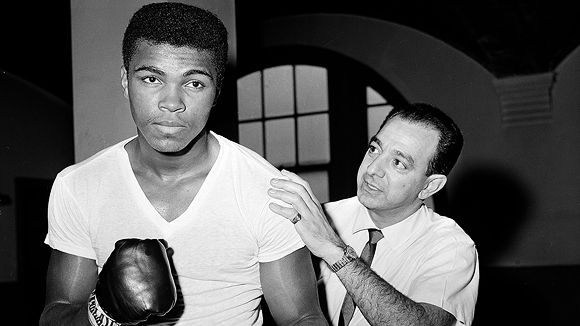 The sports world lost one of its best last week when legendary boxing trainer Angelo Dundee passed away at the age of 90. Although Dundee, during his 60 year career, worked with 16 world champions, he will always be best remembered for his associations with Muhammad Ali and Sugar Ray Leonard. To remember Dundee is to remember a great time in boxing (1960-1980) when the sport was not only alive with great fighters, but was also brimming with several notable trainers, including Dundee, Gil Clancy, Yancy Durham, Dick Sadler and Ray Arcel. It speaks to the decline of boxing that I can name more boxing trainers from 1970 than I can list current fighters.
Angelo Dundee was not just capable at preparing his boxers for their fights, but was a brilliant strategist and expert motivator once the bell rang to begin a fight. In addition, Dundee was always the perfect advocate for his fighters in making sure his men would get fair treatment from the referees. How valuable could Dundee be during a fight? In June of 1963, Muhammad Ali (still named Cassius Clay) was in London fighting Henry Cooper. Clay, one fight away from getting a shot at the Heavyweight title, appeared to be winning easily when Cooper nailed him with a perfect left-hook, sending Clay to the canvas just as the fourth round ended. As Dundee guided the badly dazed Clay back to his corner, he noticed a small tear in one of Clay's gloves. Miraculously, the tear became bigger (wink-wink) as Dundee informed the referee that Clay needed a replacement glove before he could continue. No glove could be located, so Clay's damaged one was taped up. The fight resumed, but only after Clay was given precious extra seconds to recover from knockdown. Clay stopped Cooper on cuts during the very next round.
On February 25, 1964, Cassius Clay got his chance for the heavyweight title, meeting champion Sonny Liston in Miami Beach. Although a 7-1 underdog, Clay boxed circles around Liston through the first four rounds, but ran into trouble when liniment used by Liston's corner to soothe his aching shoulder somehow got into Clay's eyes, making it almost impossible to see. Panicking, Clay was ready to quit in his corner prior to the fifth round, but Dundee would have none of it, and practically shoved Clay into the ring, advising him to just run. Clay took a pounding for about a minute and a half, but soon his eyesight returned, and he quickly regained control of the fight. When Liston himself quit on his stool before the seventh round, Clay became the new heavyweight champion. The next day, Clay confirmed his association with the Black Muslims, converting to Islam and changing his name to Muhammad Ali. Over the next few years, Angelo Dundee was forced to walk a difficult tightrope, caught between Ali's people, who were often suspicious of the white Dundee, and the traditional media, who were openly hostile to Ali's religion and politics. In 1967, Muhammad Ali, refusing induction in the U.S. military, was stripped of his title, and had his boxing license revoked…he would remain away from the sport for 3 ½ years.
During Ali's exile from boxing, Dundee concentrated his efforts on heavyweight Jimmy Ellis, who had been an Ali sparring partner. With Angelo Dundee in his corner, Ellis won the eight-man World Boxing Association tournament, and was crowned WBA heavyweight champion in 1968. Ellis went on to lose to Joe Frazier in 1970, but fortunately for Dundee, Muhammad Ali returned to boxing the same year. Resuming his role as Ali's trainer, Dundee was in the corner for all of Ali's classic bouts, including all three Joe Frazier fights, and the night he regained the title, knocking out George Foreman in Zaire. But Dundee never stood taller than when Muhammad Ali met Larry Holmes in 1980, making an ill-advised comeback at age 38. Ali took a horrible beating, but still wanted to continue after ten brutal rounds. Despite the protest of Ali and a few of the other cornermen, Dundee took total charge, as he screamed at the referee, "I'm the chief second! I stop this fight."
With Ali's career ending, Dundee directed most of his professional attention towards Sugar Ray Leonard. In 1981, Leonard, who owned a share of the welterweight championship, faced Tommy Hearns in a unification title match in Las Vegas. Although Leonard had Hearns in trouble midway through the scheduled 15 rounder, Hearns rallied to take a commanding lead after 12 rounds. In the corner, Dundee gave Sugar Ray one of the shortest, but effective pep talks of all time…Dundee simply told his fighter, "You're blowing it, son." Leonard fought like a demon over the next two rounds, sending Hearns through the ropes in the 13th, and stopping him in the 14th.
Angelo Dundee was not only a great trainer, but was also a warm, sensitive man, whose wonderful sense of humor made him one of boxing's best storytellers. In a sport plagued by corrupt governing bodies, unscrupulous promoters, rigged ratings and very little oversight, Dundee always gave boxing a much needed dose of legitimacy. Explaining his avoidance of the ugly, political side of the fight game, Dundee simply said, "I only talk winning."
Note: Angelo Dundee was not in Muhammad Ali's corner on the night of July 26, 1971, when Ali faced Jimmy Ellis. Dundee owned a piece of Elli's contract, and worked with him instead, feeling a greater sense of obligation to Ellis than to Ali. After stopping Ellis in 12 rounds, Ali welcomed Dundee back to his camp.