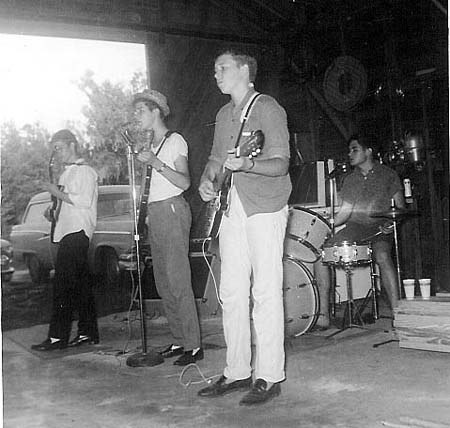 Without any hesitation, I'll always consider 1966 as my favorite year in rock and roll. It isn't just the music that drives this feeling, or the fact that bands like the Beatles, Beach Boys and Rolling Stones were at the top of their game at that particular time. No, my fondest memory is that of the widespread participation in the rock and roll "garage band era." This was a special period in popular music, in my hometown of Millbrae, as well as all around the country as untold numbers of rock groups sprung up all over the nation formed by thousands of young men hoping to make their mark in the music industry, and achieve fame, fortune and girls. Although one can't put exact dates on the when the garage band era began or ended, I've always felt the period roughly coincided with my two years at Taylor Junior High School, 1965-1967.
There is little doubt that Beatlemania played a major role in inspiring the garage band movement. In becoming the most successful rock group in the world, the Beatles provided, at least on the surface, a very simple formula. A few guys holding guitars in front of a drummer appeared to be the easiest path to stardom, and this theory seemed to have a lot of credence, as throughout 1964 and '65, a week never went by without a previously unknown band scoring a hit record. Groups like "The Turtles," "The Lovin' Spoonful" and "The Byrds" became household names, while many more were able to grace the Top 30 at least once.
Although the term "garage band" is usually defined as a group that never found fame beyond a five mile radius of its own town, there were several different categories that comprised the garage band phenomenon. The highest level were those groups that actually found lucrative work, whether it was playing at large dance venues, or even performing as an opening act for a visiting big name act at the Cow Palace. "The Leaves," "Music Machine," "Syndicate of Sound," and "Count Five" were just four California garage bands that graduated to record contracts and radio airplay, while acts like "Peter Wheat and the Breadmen" gained a decent Bay Area following without benefit of a hit record. The lower echelon garage bands would be found playing at high school hops, "battle of the bands" talent shows or Kiwanis Club sponsored teen dances. Then there were the bottom rung members of the garage band fraternity, made up of kids performing at backyard birthday gigs, or junior high basement parties for money that even the local paperboy would laugh at. If you ever witnessed any of these groups, the chances were that you were seeing their one and only public performance. Of course I'm not even including those unfortunate souls who never made it past the actual garage stage, a situation my friend Bill found himself in back in '66, as he and three or four other guys spent weeks together rehearsing "Play With Fire," the only song they knew. Bill was hoping to follow in his brother Don's footsteps, as legend had it that Don once played saxophone for a South San Francisco band, although Bill confided to me that Don just blew the same note over and over during his one and only gig. But for every garage band that actually existed, there were several more that only reached the planning stage, and were merely the pipedream of many an overly optimistic lad…this was the level that I once reached, but more on that later.
The best aspect of Millbrae's garage band era was that the sheer number of groups meant that no dance, sock-hop, talent show, high school or junior high school party would ever be without a group providing live music. My first experience with this came in September of 1965 when I attended my first Taylor Junior High School sock-hop. Playing in front of the 800 kids crowded into the gym was a group of 8th graders, a few of which I knew. I was totally impressed, not so much by their performance, but just by the fact that they were there, belting out "Louie Louie," "Jolly Green Giant" and "Louie Louie" again. If I was amazed that a group of 13 year olds could form a band in my home town, imagine how I felt at the next sock-hop when the featured group was comprised of 7th graders, one of which had played on my Little League team. Listening to them murder "Hang on Sloopy", "Eve of Destruction," and, of course, "Louie Louie," I began to wonder if there was room at the bottom of the music business for someone like myself. My friend Dean, from around the corner, was thinking the same thing, and in early 1966, was nice enough to include me in a band that, at this point, only existed on paper.
As excited as I was about being in a rock group, I was aware of two obstacles…first off, I did not own a guitar, or any other instrument, and second, I had had zero talent. Dean had both problems covered. We could buy our equipment on some kind of installment plan, and take a short series of lessons which would teach us enough about music to play at least as well as most of the groups we'd become used to seeing at Taylor dances. Dean also claimed to know a guy who could book us all over the area, and figured by June, we'd be playing at local high schools. Dean and I decided to seek the advice of an 8th grader named Jack, who was considered the unofficial king of Millbrae garage bands. Only 13, Jack already fronted several groups, including one called "Gary Grape and the Bunch," and was currently in rehearsal for an upcoming Taylor Friday night dance with his latest band. Watching Jack and his boys trying to learn "Day Tripper" made me realize that a couple of guitar lessons might not be enough to become a local rock star…I'd probably need at least five.
At the epicenter of Millbrae garage band craze was a music store called "Piano World. Located on the 200 block on Broadway, "Piano World" had an elaborate showroom at the front of the store, which featured grand pianos, harps and clarinets, while in the back room lie all the cool instruments, including electric guitars, drum sets, amplifiers and Hammond organs. "Piano World" was the official hangout for every aspiring rock and roller, and for a short time, that included me. The place was run by a man named Chuck, who went about his job much like that as a used car salesman. When Chuck noticed me gazing at all of the gorgeous instruments, he immediately sprung into action, trying to find out my price range, and expressing his willingness to cut me a great deal. At age 12, I had never even bought a pair of shoes without my mom being there, but suddenly I found myself haggling over a couple of hundred dollars of merchandise, although I have to admit I did very little talking as the combined price of the guitar and amp that Chuck felt was right for me dropped by 20% within a few minutes. I was thrilled that Chuck was so eager to do business with me, and I couldn't wait to get home to tell my mother the great news about the fantastic deal that waited for us back at "Piano World."
Unfortunately, my mom was a much tougher negotiator for me than Chuck was. She was quick to point out that I had never shown any interest in music before, and certainly no aptitude. Although she made it perfectly clear that there was no chance that we'd be shelling out a few hundred dollars for an electric guitar, my mom was willing to get me an acoustic one…if I was willing to learn with that, then maybe we could talk electric guitars and amps down the road. Of course, I wasn't hearing any of it…I had a schedule to meet, and starting out with a simple acoustic guitar would delay my career by weeks. As my mother was gently letting me down, my sister Elaine was laughing the whole time…and to think I was going to dedicate a song to her when I played at her high school. Although my career as a performer was now over, I wasn't yet through with the business. Another friend of mine, John, was putting together a group, and wanted me to manage them, probably because he figured my two newspaper working parents would help them get publicity. I asked how far along his band was in the process, and although none of members currently owned any instruments, he proudly presented me with a photograph his girlfriend had taken of him along with his mates. "What's this?" I asked.
"Our album cover" was his reply.
But by early 1967, the whole garage band craze started to fade. "Piano World" closed sometime in late 1966, and the number of local groups began to diminish. Even the music began to change, and none of the remaining groups were bothering to play "Louie Louie" anymore. One of the last venues I can remember that was available for Millbrae garage bands was at the Meadows Swim Club, where a series of Friday night dances were held during the summer of 1967. Instead of playing "Paul Revere and the Raider" covers, the featured bands seemed more concentrated on "psychedelic" music, which was very much in vogue at that time. At the final dance of the summer, I stood next to the pool, and listened to some hippie chick completely butcher "White Rabbit." For me, weeks away from starting high school, it seemed like a fitting end to a wonderful era.